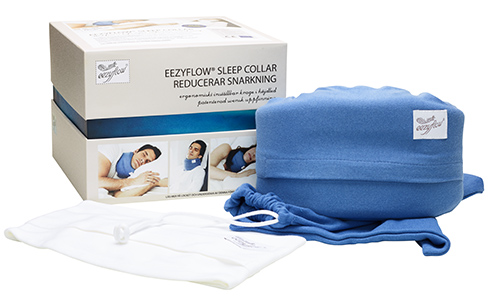 With more open airways, snoring will be reduced. The product is soft and springy, pressure relieving and adjustable in height. Please read
Eezyflow promotes more open airways by holding the head slightly tilted back, the jaw slightly advanced and the mouth closed.
The cause and extent of snoring depend on anatomy, weight, lifestyle, age, how long one has snored for as well as the position in which one sleeps.
The product can also be used in combination with other anti-snoring products, such as anti-snoring mouth splint and/or nasal dilator.
Eezyflow can be used while sleeping in a lying or sitting position. The product also functions excellently as a travel collar.
Innovative:
• Unique, Swedish patented innovation.
• CE-marked medical device. Made in Sweden and Denmark.
• The fabrics are made with GOTS certified 100% organic cotton.
Comfortable:
• The collar consists of soft memory foam (a material that recovers its original shape).
•
The material is soft, pressure relieving and moulds itself in response to body heat.
Snoring:
The muscles of the body relax during sleep. In the throat, there is a lot of soft tissue and when the muscles relax, the airways are affected. The walls of the throat relax, the tongue sinks backwards and the soft part of the palate becomes limp. If there is sufficient narrowing of the airways, the tissues begin to vibrate resulting in snoring. The vibrations may occur high up in the nose, in the soft palate or behind the tongue, but usually it is a combination of these.
The Eezyflow story
I have lived with snorers since I was 10 years old. On occasion, the noise level was unbearable. This contributed to frustration and many nights on sofas, in the nursery and, at times, I even found myself sleeping with the dog under the stars in the archipelago instead of on our boat.
Thirty years of frustration and a great many sleepless nights helped me recognise a pattern. The snoring stopped in a certain sleep posi-tion: on the side with the neck/head slightly tilted back and the mouth closed. The idea of being able to control sleep position in a comfortable manner matured in 2005.
Product development started and, in parallel, I put questions on the subject to various doctors/researchers, attended sleep congresses and conferences, and devoted myself to studying data. I wanted to learn more about snoring, its causes and risks.